Oct 4, 2023 10:11 AM Central
Robert P. Towner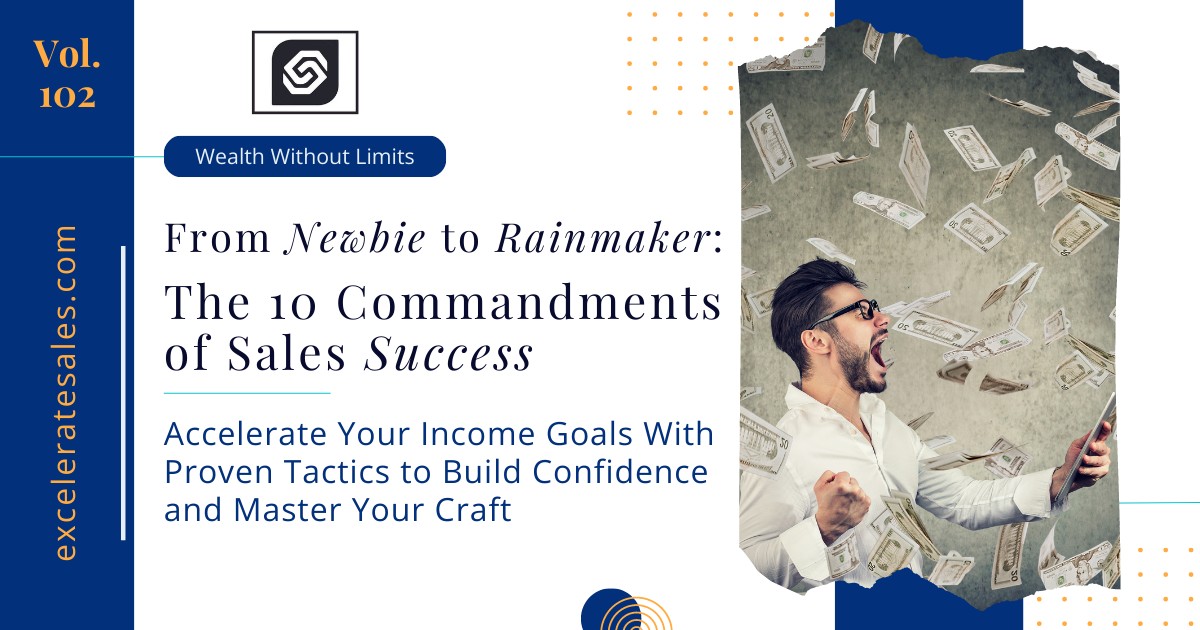 Follow the 10 Commandments of Sales Success and bypass the frustration and anxiety while you Accelerate Your Income Goals With Proven Tactics to Build Confidence and Master Your Craft
Starting a new sales job can be daunting, but it doesn't have to be. Between fear of rejection, heavy discouragement, and imposter syndrome, it's easy to lose motivation.
With the right mindset and practical strategies, you can transform self-doubt into unstoppable confidence.
The 10 Commandments of Sales Success
If you're a driven rep looking to excel in your sales role, here are the 10 tactics you must employ to help you exceed your income goals, develop resilience, and unlock your full potential:
Set Income Goals

Aim high and get crystal clear on your vision. Plot your step-by-step path to the 6-figure income you desire. This eliminates distractions and fuels your ambition.



Rewrite Your Sales Story

Don't let past rejections define you. Reframe your sales narrative to highlight your skills, value, and determination. Build your confidence by focusing on your strengths.



Learn From The Masters

Leverage mentors who faced similar struggles and can shortcut your success. Their proven techniques will accelerate your growth.



Craft Your Sales Pitch

Hone your unique selling style and compelling customer messaging. Present yourself powerfully and watch sales take off.



Track Progress

Celebrate small wins and stay motivated by tracking deals closed and income growth. Visualize your goals manifesting.



Overprepare For Calls

Leave no room for error and uncertainty. Thoroughly research accounts, anticipate objections and develop tailored solutions.



Curb Negative Self-Talk

Interrupt toxic inner dialogue and reframe it. Be your own best coach and infuse your mindset with positivity.



Practice Resourcefulness

When rejected, mine the experience for insights to improve. Let resilience and determination power you through obstacles.



Perfect Your Craft

Sharpen your skills continuously through courses, books, and practice. Mastery and excellence drive out doubt.



Join a Community

Connect with other driven reps who uplift and inspire you. Thrive in an encouraging environment of growth.
The path to sales stardom awaits. Be unstoppable, transform your mindset and accelerate your success in the New Year!
Starting a new sales job can feel intimidating, but with the right mindset and strategies, you can excel.
Approach each day with tenacity, service, and the hunger to grow. Let obstacles strengthen your resilience, and rejections deepen your determination. Stay focused on your vision of career success and financial freedom.
With grit and perseverance, you will build an unshakable belief in yourself and your ability to deliver real value. Soon, you'll be joining the ranks of top performers.
Your time is NOW! Go show the sales world what you're capable of!
---
Unlock Your Sales Potential! 🚀 Join our exclusive Personal and Professional Development Mastermind tailored for ambitious sales professionals like you.
Dive deep, strategize, and elevate your sales game to unparalleled heights. Don't just be good—be the best. 🔥
---
Do you find this blog helpful?
You can help us out by leaving a comment below or simply sharing it with other sales pros to help spread the word.
Do you have a question or topic you would like covered?
Let me know, and I will add it to the list!
Ready to take control of your life and career?
Here are a few ways I can help! Follow the links below to learn more!
Success starts with taking action. Choose the options that resonate best with you, and Get Started Today!